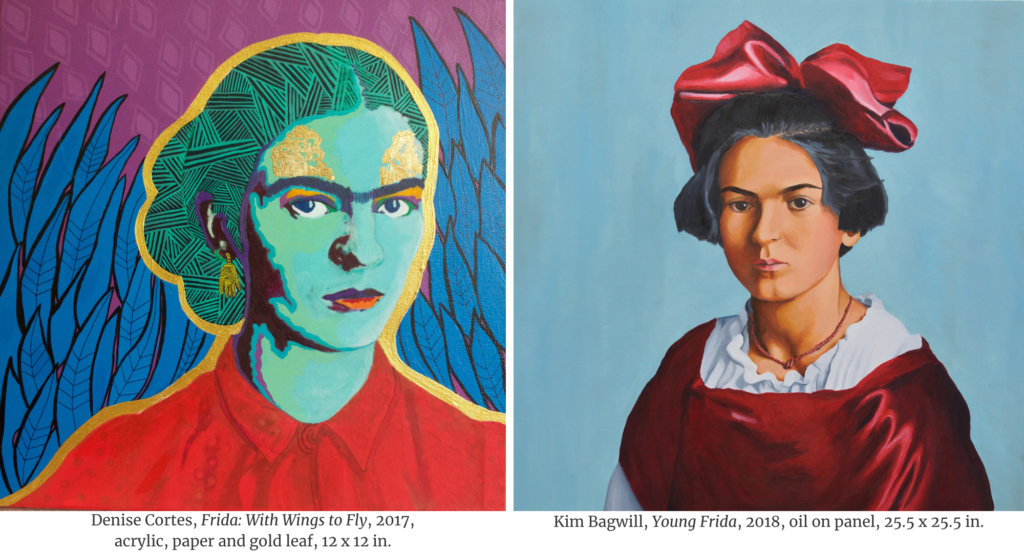 The Huntsville Museum of Art will host the traveling exhibition, The World of Frida, an inspirational celebration of the culture, style, and persona of Mexican painter Frida Kahlo. The World of Frida will open December 13 and will run through the end of February.
The World of Frida celebrates the visionary Mexican painter, Frida Kahlo, an artist who continues to inspire with her story of love, adventure, and pain. Celebrated globally today as an iconic, renegade artist and outspoken feminist, Kahlo's life began perilously. Stricken with polio as a child and injured as a teenager in a bus accident that left her permanently disabled, Kahlo endured enormous pain and turmoil early in life. While recovering from the accident, Kahlo returned to her childhood hobby, painting. Soothed by the solace of art, it was during this period that she decided to become an artist.
In 1927, Kahlo became politically active and met the famous Mexican muralist, Diego Rivera. They married a year later in 1928. Kahlo spent the 1920s and 1930s traveling the U.S. and Mexico with Rivera while he worked on commissions. During this period, Kahlo created artwork but was undoubtedly in Rivera's professional shadow. Their marriage was tumultuous in the 1930s and they divorced in 1939. Kahlo continued to paint and eventually had her first solo show in Mexico in 1953, shortly before her death in 1954.
Following her death, Kahlo remained largely unrecognized until the late 1970s, when art historians and political activists rediscovered her work. By the late 1990s, her work was considered a significant contribution to art history. She became an icon to many – including the Chicano, feminist, and LGBTQ movements.
"Frida Kahlo summoned a stalwart and heroic strength to push forward through her life, which is why I believe she continues to resonate today. She has become a beacon for those who have struggled, and her alluring biographical artwork not only serves as artistic inspiration, but as visual interpretation of strength and braver," says Carrie Lederer, Curator of Exhibitions and Programs at the Bedford Gallery.
Kahlo's introspective paintings, exquisite and brutally honest, are a visual witness to the way she lived and loved life. While Kahlo's life was short-lived – she died at 47 – her story continues to inspire artists of the 21st century. The 95 international artists featured in The World of Frida have reinterpreted many aspects of Kahlo's life in an array of media by honoring her self-portraits, depicting her love affair with Diego Rivera, and recognizing her emotional, physical, professional and societal struggles. This exhibition is an incredible tribute to an artist who continues to influence millions by the simple fact that she was always true to herself, no matter the cost.
The World of Frida opens at the Huntsville Museum of Art on December 13, 2020 and closes on February 28, 2021. The inspiring exhibition will be on display in the Adtran, Jurenko, Thurber and Guild galleries of the Museum and will be included with the general price of admission. Tickets can be purchased at the front desk in the lobby of the Museum or online here. The Huntsville Museum of Art asks that all visitors wear a face mask at all times while inside.