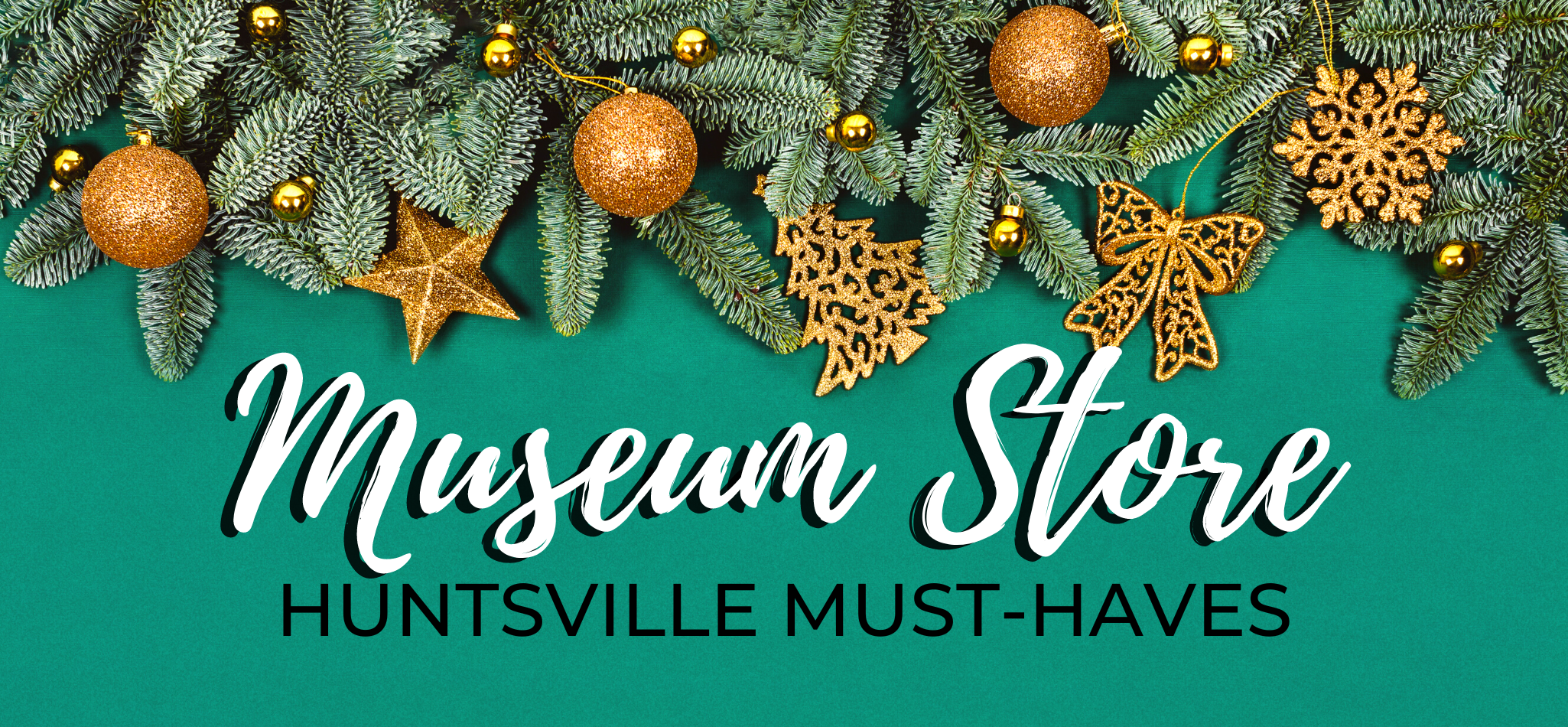 The second Museum Store gift guide of the season is all about Huntsville! Show your love for your city by wearing themed apparel or by supporting local businesses. Read along to learn more about the many Rocket City-themed and locally-made items you can find at the Museum Store.
Represent the Rocket City
These t-shirts, hats, mugs and tumblers are perfect gifts for the person that is always on the go. Show your knowledge of Rocket City lore when you wear something with Eggbeater Jesus or the Saturn V rocket. Stay hydrated on your errands with a tumbler or water bottle that reminds you of home. Wherever you're headed, these themed clothing items and accessories will ensure you'll never forget your roots.
Stay occupied indoors with space-related puzzles, postcards and stickers. Completing a puzzle is a perfect way to pass the time no matter the time of year. These puzzles come in three designs, and those same designs are also reflected on postcards and stickers. There are also other sticker designs that are more specific to Huntsville. Get one of every sticker to start a fun collection!
Support Local Businesses
Need any new skincare, candles or other forms of aromatherapy? Shop from local business like South & Pine, 1818 Farms and South candles. South & Pine is a home and gift shop located in Madison. The Museum Store carries their reed diffusers, bath soaks and lip scrubs in a variety of scents. 1818 Farms is located in Mooresville. The Museum Store always has soap, shea cream, essential oils and more from the farm in stock. South candles are made by Alabama Goods, which is located in both Huntsville and Homewood. Their Southern candle scents are favorites of Museum Store shoppers.
Get cozy during the holidays with a steaming cup of Piper & Leaf tea and snuggly zkano socks. Piper & Leaf is a family-owned tea company that started in a Lowe Mill studio and now has a few locations around North Alabama. The Museum Store always has their tea blends in stock, though the flavors vary throughout the seasons. zkano is a sustainable and durable sock brand that began in Fort Payne. Their socks are created with certified organic cotton that is grown, spun and dyed here in the South. Together, these products will ensure you have a relaxing holiday season.
Whether you intend to travel or stay at home over the holidays, the Museum Store has you covered. Travel wisely with these leather clutches, pouches and keychains from Dreamers Supply Co. in Birmingham. Have everything you need stored safely and stylishly on your trip. Conversely, spruce up your home and daily routine with ceramic goods from Prodigal Pottery and Amber Simpson Art, both also based in Birmingham. Prodigal Pottery is handmade by women escaping abuse and homelessness. The Museum Store stocks their Hope, Joy and Love mugs as well as their heart-shaped trinket dishes. Amber Simpson's mini succulent planters and jewelry trays are more colorful examples of ceramic artistry.